Premier Organic Molasses – A New Frontier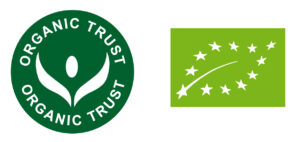 With an increasing number of organic farming enterprises establishing throughout the country, we at Premier Molasses are proud to announce, that we have incorporated Organic Molasses into our ever expanding product range. Organic Farming, through precise management, allows for the production of quality feed in a manner that is beneficial to both the environment and also local wildlife. Recognising these benefits, Premier Molasses in conjunction with Organic Trust Ltd have become organically certificated and now have the ability to supply farmers with an important organic feed material.
Incorporating Organic Molasses into the everyday diets of animals, will not only help increase the energy capacity of the ruminants diet, it will also help reduce dust, increase the animals overall intake while also masking any unpalatable straights within the feed. Furthermore, organic molasses will help improve the structure of homemade Total Mixed Rations (TMR), while also having a beneficial effect on the rumen microorganisms and eco system.
For more info on our organic molasses please click here.